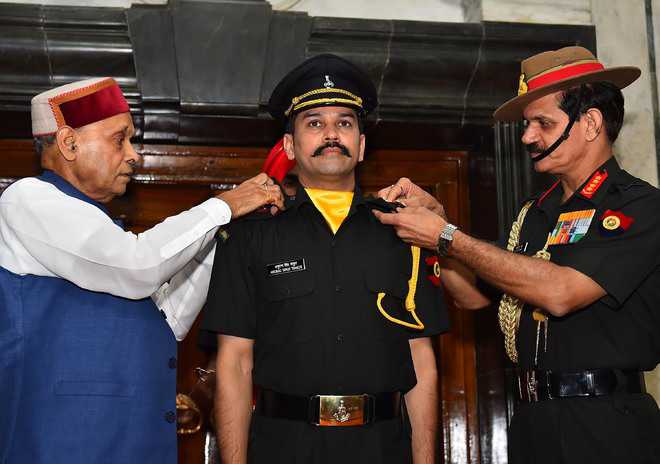 Anurag Thakur was born on 24th October 1974 in the village of Sameerpur in Hamirpur district of Himachal Pradesh. He is the son of Prem Kumar Dhumal and Sheela Dhumal. He was very fond of cricket from his early days. Anurag also represented Punjab in Under-15 and Under-19 while studying in Dayananda Model School in Jalandhar. He also captained the Ranji Team of Punjab from 1992 to 10993.
Anurag became the selector of the Indian Junior Cricket Team at the age of 26. He was also the President of the Himachal Pradesh Cricket Association since the age of 25. Now Arun Dhumal is in his place. He is also credited for conducting one-day matches with IPL and England in Dharamshala Stadium.
His father got a lot more involved in politics and as a result, there were responsibilities laid on young Anurag as well, therefore, his cricketing career ended. However, Anurag was already famous for his cricketing skills. He was a familiar face and was recognized by many and this helped his political career. It can be also said that his political career started from Cricket. As he was a familiar face he was voted as the Lok Sabha MP for three consecutive years since 2008.
Anurag became a part of the Territorial Army on 29th July 2016 and went onto become the first BJP MP to become an officer in the Territorial Army. He was ranked as Lieutenant by the then Chief of Army Staff, General Dalbir Singh. He then became the Minister of State Finance and Corporate Affairs under the Narendra Modi government in May 2019.
Anurag was also elected as the president of BCCI on 22nd May 2016-2nd January 2017. He was 46 at that time making him the Second youngest BCCI Presidents ever. He is the president of Bharatiya Janata Yuva Morcha, the youth wing of BJP. Anurag has a younger brother, Arun Dhumal who is the Treasurer of BCCI. Arun, when asked about his brother, said, if Anurag didn't join politics Indian Cricket Team would have had a great player.
Anurag got married to Himachal Pradesh's PWD Minister Gulab Singh Thakur's daughter Shefali on 27th November 2002. Anurag and Shefali have two children, Jayaditya and Udayveer.
Anurag has a huge fan following on Social Media, he has 1.5 Million followers on Twitter.
Prem Kumar Dhumal has been the Chief Minister of Himachal Pradesh twice.
---
Connect With US- Facebook | Twitter | Instagram